There are no objects in this facebook feed.
Juliet Balconies

Supply & Installation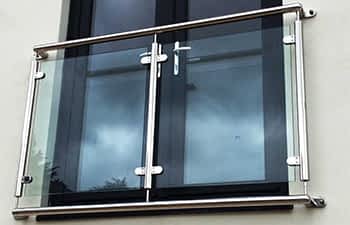 Steeltech have successfully installed many Juliet Balconies for both domestic and commercial clients on contractual works nationwide.
We supply only the highest quality products and all installations are carried out by skilled professionals adhering to all up to date building and safety regulations.
What is

a Juliet Balcony?
If you are familiar with the classic Shakespeare novel "Romeo & Juliet" then you will remember the famous balcony scene.
The Juliet Balcony has all the benefits and advantages of a balcony without the extra costing and complications.
Juliet Balconies are a simple balustrade that can be fixed externally to a building giving rooms on higher floors full height French doors.
Having these inward opening french doors allows a greater sense of space and allows for lots more light. You'll also benefit from better views!
At STeelTech we have a variety of different styles of Juliet Balconies including tubular steel, glass button or glass channel models all available on a supply only or supply and fit basis.
1

SteelTech have installed hundreds of Juliet balconies, over 20 years in the industry for both domestic and commercial clients.

2

We truly care about your project and will advise you through each process, our 100% positive feedback speaks for itself.

3

We are insured, qualified, skilled and reliable. We always turn up.
Benefits

of Juliet Balconies
Our Juliet Balconies will allow you to let a large amount of extra sunlight into the room of you home or business property without compromising safety.
A Juliet Balcony can be opened up allowing you a more bright room to enjoy also giving you extra air flow through your property.
Here at Steeltech we have a range of styles available for your Juliet Balcony. Often they are aesthetically pleasing to the eye and will be the perfect compliment to your property. Glass frames, Stainless steel and more!
Juliet Balconies can also add an extra level of security and safety to your room if you have large doors or windows in your business or home property. With a Juliet Balcony you can open up the doors and windows without having to worry about small pets, children or the safety of others.
Where do we install Juliet Balconies?
We offer all of our Juliet balcony installations nationwide in places such as (but not limited to)
Birmingham, Leeds, Sheffield, Bradford ,Manchester, Liverpool, Leicester, Wakefield, Essex, Coventry, Nottingham, Newcastle, Sunderland, Plymouth, Wolverhampton, Derby, Southampton, Portsmouth, York, Peterborough, Chelmsford, Norwich, Cambridge
MORE PRODUCTS
Check out our other products