There are no objects in this facebook feed.
Post & Rail

Supply & Installation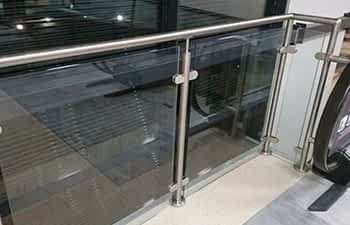 Steeltech are a nationwide company that serve both commercial and domestic clients. We specialise in the design, supply and installation of post and rail  balustrade and handrail systems.
We offer a complete service customised for the client depending on their needs. With years of experience and hundreds of installations of post & rail systems under our belts you'll be glad you chose us.
Post and Rail systems are perhaps the most popular choice of all balustrade, a simple but effective common choice.
Ideal for internal and external projects, post and rail looks contemporary and can be customised to create a complimentary look to your property or building.
Used commonly for stairs, balconies and decked areas, post and rail is a cost effective and bespoke balustrade system that complies with all of the latest building regulations.
Our post and rail systems are bespoke and can be manufactured and installed to your specifications.
Here at SteelTech ltd we have a vast range of different components to choose from allowing you to create the perfect bespoke post and rail system.
1

Steeltech have a combined knowledge of over 20 years in the industry and collectively have installed hundreds of post & rail systems nationwide for both domestic and commercial clients.

2

We truly care about your project and will advise you through each process, our 100% positive feedback speaks for itself.

3

We are insured, qualified, skilled and reliable. We always turn up.
The post and rail balustrade systems are one of the most popular balustrades largely down to how safe and secure they are. The post and rail components come together creating a sturdy structure without compromising the aesthetics.
Our post and rail systems meet all of the latest building regulations.
Due to the large range of components available the post and rail balustrade systems are fully bespoke and customisable to your exact specification. This allows you to create an aesthetically pleasing system that compliments your building.
Where do we install post & rail?
We offer all of our post & rail installations nationwide in places such as (but not limited to)
Birmingham, Leeds, Sheffield, Bradford ,Manchester, Liverpool, Leicester, Wakefield, Essex, Coventry, Nottingham, Newcastle, Sunderland, Plymouth, Wolverhampton, Derby, Southampton, Portsmouth, York, Peterborough, Chelmsford, Norwich, Cambridge
MORE PRODUCTS
Check out our other products